The Secretary General of Research Council of Oman(TRC),Mr Hilal Al-Hinai, headed a delegation of TRC, visited Institute of Electrical Engineering On April 12,2011. Prof. Liye Xiao, the Director of IEE,CAS, held asymposium and welcomed the delegation.
In this symposium, Prof Xiao briefly introduced the research and development of the whole institute. Then working staff of scientific department showed main achievements of all groups and specifically introduced their recent results of solar thermal power system and 1MW Solar tower power in Yanqing County,Beijing. In the end, Both parties had a heated discussion about research and cooperation of solar cooling technology and other techniques.
After the symposium, accompanied by Prof Xiao, the TRC delegation had a tour of Solar Thermal Power Model, the Magnetic Leviation and Linear Drive Lab and PV power generation model of IEE,CAS. In the afternoon, the delegation left for Yanqing county and learned about the construction condition and progress of the Solar tower power.
After 40 years development and endeavor, Oman has made a lot of achievements economically and politically. Nowadays Oman is facing the challenge of sustainable development for its dependence on petroleum economic. In 2005,TRC was established and aimed to deal with the challenge by scientific innovation. TRC hopes to build up long-term cooperation relationship with Chinese Academy of Science on solar utilization technology.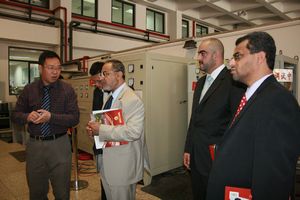 Delegation of Research Council of Oman Visiting IEE,  Delegation of Research Council of Oman Visiting IEE,
by LIANG Nan of IEE                         by LIANG Nan of IEE